FRAME
Frame is a basic element that determines overall qualitty and reliability of your bike. Basic models are usually made out of Hi-ten steel which is not suited for profesional riders (not strong enough). Middle category features some parts made from 4130 CrMo (chromoly) compound (top tube, down tube or chainstay/seatstay) and the top quality frames are made of butted, heat treated CrMo tubing. Frame geometry influences handling and manoeuvrability.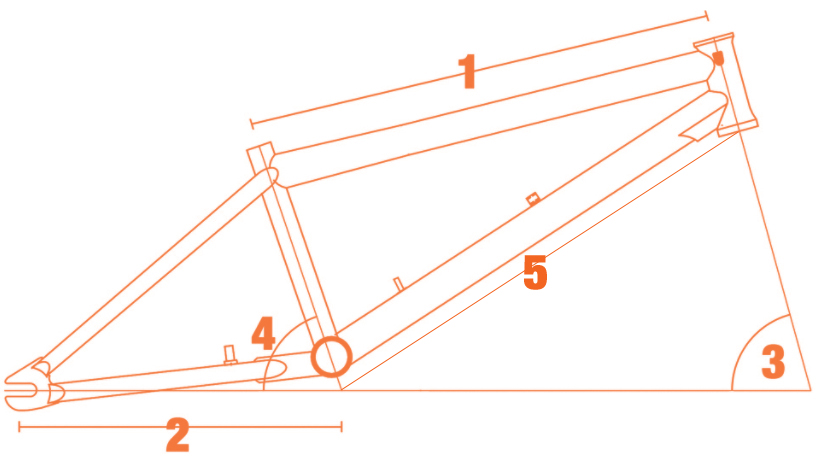 FRAME GEOMETRY
All basic measures and angles.
1. TT - Top Tube (f.e. 20.5", 21") - it is measured in inches from the middle of head tube to the middle of standover (seat tube). TT length determines the frame size.
2. CS - Chainstay (f.e. 13.5", 13,75") - length of a chainstay determines manoeuvrability and spinability of your bike. The longer your chainstay is, the steadier and more comfortable the frame is. CS is measured in inches from the middle of bottom bracket to the middle of dropouts.
Slammed - the shortest possible chainstay length measured from the middle of bottom bracket(BB) to the middle of hub spindle.
3. HT - head tube angle (f.e. 74.5°, 75°) - The HT angle under 75° is suited mainly for park/dirt/trails riding as it is very steady and more comfortable while roasting jumps/boxes. On the other hand 75° and higher angle is better for technical street and nose wheel tricks.
4. ST - seat tube angle (f.e. 71°) - Determines the gravity centre. With the increasing angle the gravity centre moves forward.
5. DT - Down Tube - Top class frames are equipped with an oval down tube as it is much stronger than the round one.
BB height - Bottom bracket height from the ground - the lower BB height is, the steadier the frame. Frames with BB height under 11" are not suited for 4 pegs as the sprocket is not high enough for touching the ledge/rail when you grind.
Standover - Seat tube height/frame height - the distance between the middle of bottom bracket(BB) and middle of top tube (TT)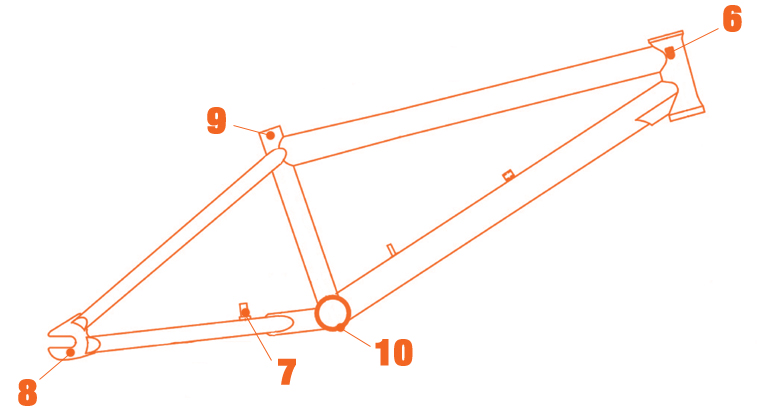 FRAME DESCRIPTION
Other important parts with pictures
6. Gyro Tabs
Gyro tabs are bosses that may be either welded onto the head tube of a BMX frame or screwed into the drilled holes (removable gyro tabs) to handle Gyro cables.

7. Removable Brake Mounts
Most of a recent frames are equipped with completely removable braking hardware, however the construction of each may vary. That's why it is recommended to always buy one from the same company as your frame.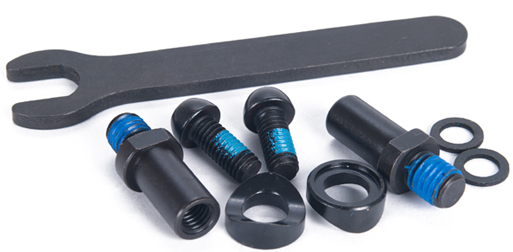 8. Dropouts
Designed for 14mm spindle. THickness goes from 4mm (dirt/trails/park riding) to 6mm and more (street, heavier riders..). Sometimes dropouts are equipped with integrated chain tensioners.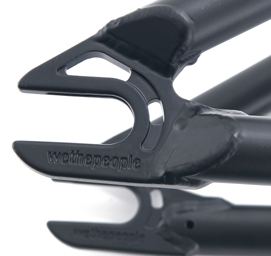 9. Seat Clamp
Helps to tighten your seat post into the frame. These days most of the frames have an integrated seat clamp although there are still some where you have to buy one separately. Inner diametter is usually 24,4mm.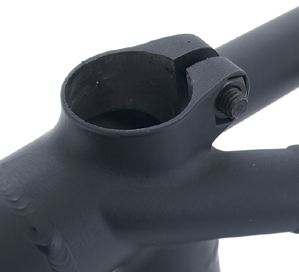 10. Bottom Bracket
There are 4 basic types of bottom brackets. USA, MID, SPANISH, EURO. Most used bottom bracket today is definitelly MID. You can find more detailed information on each type here. (how to pick a bottom bracket).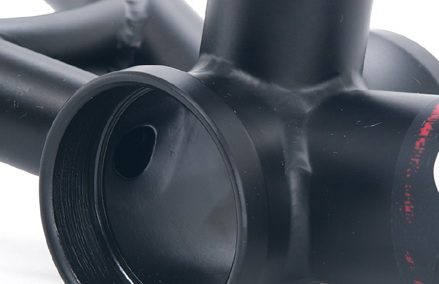 Recommended things you should look for when choosing a frame:
- simple look with no extra shapes like square or triangle tubing
- at least 5mm thick dropouts
- brake mounts placed on the seat stay (top side)
- MID size BB
- integrated head set (head set cups are part of the frame)
Recommended frame sizes according to the rider's height:
145cm - 165cm = 20"TT, 20.25"TT, 20.4"TT
165cm - 185cm = 20.5"TT, 20.6"TT, 20.8"TT, 21"TT
over 190cm = 21"TT and more