One of the frequently asked questions is, what type of bottom bracket do I need for my bike? To help you out, We have created this article with every information you need to know about bottom brackets (BB). We have 4 basic types of BB (Euro, Spanish, Mid, USA).
The bearings on the picture above are sorted from the smallest to the largest - Euro size, Spanish size, Mid size and USA size. Notice that the EURO and the USA size bearings are both pressed in a case. EURO and USA size bearings aren't sold separately.

Before we dive into the detailed description of each BB type, let's have a look on what does marking SB or BB mean.
SB - Sealed Bearings: Quality sealed bearings
BB - Ball Bearings: unsealed bearings (less quality plus difficult maintenance). Nowadays the ball bearings are only used on some of the lower level complete bikes aimed at beginner riders.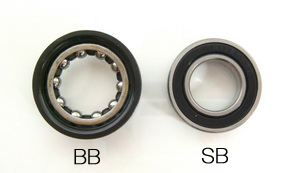 CHOOSING THE CORRECT BOTTOM BRACKET
If you want to be sure what type of bottom bracket you should get, then you need to know these 3 basic specifications.
1. Bottom bracket shell type: USA, MID, SPANISH, EURO. Each name stands for the different bearings size which only fits with frames that have the same bottom bracket shell.

2. Diametter of your crankset spindle: 19mm, 22mm or 24mm.

3. Bearings version: BB (ball bearings) or SB (sealed bearings)

TBB-BIKE marking example: "3457 WTP Mid size BB kit 19mm" // product number, manufacturer, type, kit=complete set (bearings, spacers etc..), spindle diameter.


BOTTOM BRACKET BEARINGS BY SIZE
Bottom bracket shell inner diameter determines the bearings outter diameter size. There are 4 basic types of bottom brackets in BMX. The smallest one is Euro size (rarely used today), than Spanish size, Mid size and the largest one is USA size. It is safe to say that most used bottom bracket in bmx today is Mid size with the Spanish size on the second place.

Euro size BB
Smallest one out of all the other bottom brackets. EURO size bearings are pressed into aluminium case with outter thread that is screwed into the bottom bracket shell. This type of BB is rarely used today as it was very deffective and difficult to maintain.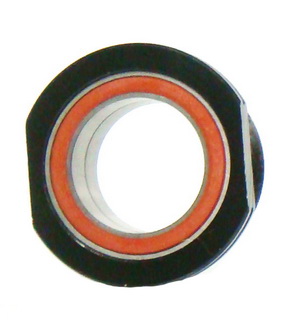 Marking example: 22x31x72xRS // ISK or 1905137 - 2RS // NBK

Specifications:
- diameter: 31mm
- width: 6,9mm
- inner thread: 1.370" x 24tp
Spanish size BB
Bottom bracket shell is more lightweight than Mid size. Bearings are pressed right into BB shell. It is mostly used by the companies producing frames of the lowest possible weight (Fly bikes, Macneil..).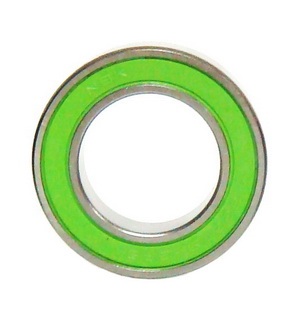 Marking example: 22379 - 2RS // NBK

Specifications:
- diameter: 37mm
- width: 9mm
Mid size BB
Most used bottom bracket in BMX. Stronger, more durable and a little heavier than the Spanish BB. Mid size bearings are pressed straight into the bottom bracket shell.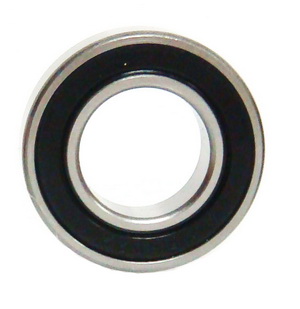 Marking example: R12 RSD 22

Specifications:
- diameter: 41,3mm
- width: 11mm
USA size BB
Original BMX bottom bracket with bearings pressed into steel case which is afterwards pressed into BB shell. It is no longer used.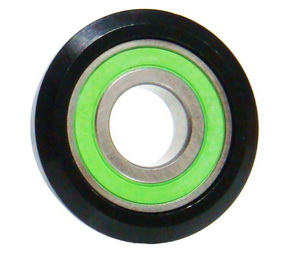 Marking example: R12 2RS // ISK

Specifications:
- diameter: 51,5mm
- bearings diameter: 41,3mm
- bearings width: 11mm
HOW DO YOU FIND OUT WHAT TYPE OF BB DO YOU HAVE?
It's simple, just google the type/model/name either of your frame or complete bike and look for this information in description bellow the product. Everything you need is right there. If you are not able to find your frame/bike online, then take a ruler and measure all neccesery sizes to find out what type of BB you have (use the details above). Don't forget to check the spindle size of your crank set so you know exactly what you need.


GENERAL DESCRIPTION OF BOTTOM BRACKET
The BMX Bottom bracket is composed of the parts you can see in the picture below. It is recommended to always get the whole BB set instead of just replacing some parts.
TIPS FOR BOTTOM BRACKET INSTALATION
Bottom bracket instalation is not an easy task and if it's your first time doing it, we recomend you to get some profesional assistance.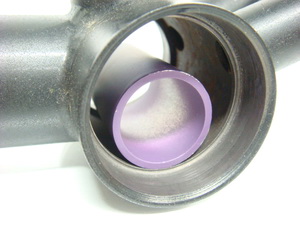 - do everything with deliberation and patience
- lube all the parts well ( bb shell, bearings, spindle, cranks, bolts..)
- easiest way to press the bearings into the BB shell is to put them straight on the hole, place a small wooden plank over and hit it with a hammer to press the bearing in
- spacer tube has to fit tightly, otherwise the bearings will be destroyed within a short period of time
- for 48-groove splines you will need a crank arm remover

HOW TO INSTALL A MID BOTTOM BRACKET WITH JIM BAUER - TRANSWORLD RIDE BMX MAGAZINE
If you have any questions or ideas on how to improve this section, please let us know via our e-mail info@tbb-bike.cz