SPROCKET (CHAINWHEEL)
Old BMX bikes were equipped with 48T (teeth) sprockets, however this is not a standard size anymore. Most common sprocket size today is 25T or 28T with 23,7mm bore. There are two basic sprocket types - bolt drive and spline drive. Bolt drive sprocket is attached to the crank arm with a bolt. Spline drive sprocket is placed straight onto the 48-spline spindle and usually lasts longer. However, if there's more than one tightening bolt on the bolt drive sprocket, then the lifespan is pretty much the same.
"T" = number of teeth (25T, 28T, 30T)

From the left: bolt drive sprocket with only one attaching hole, green one with 3 holes and a sprocket with guard
Spline Drive Sprocket (SD)
SDS features a hardenned steel insert that is designed either for 19mm or 22mm spindle and it's placed straight onto the 48-spline spindle. Spline drive sprocket doesn't have any tightening bolt.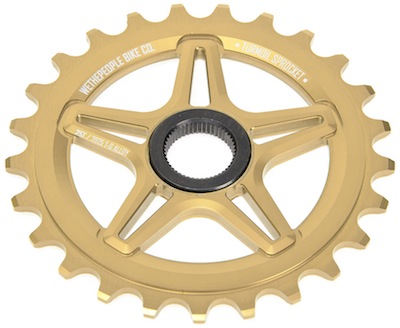 How do I know which sprocket will work with my bike?
There are two things to consider when purchasing a new chain wheel. The width of the teeth on the chain wheel and the bore of the spindle hole determine compatibility. Chain wheels with 3/32 teeth will work with all size chains. Chain wheels with 1/8 inch teeth will only work with 1/8 an 3/16 chains. A chain wheel with a 15/16 inch bore will work with all cranks. All other bore sizes are limited in what cranks can be used. An adapter may be required to adapt a some chain wheels to a different cranks.


CHAIN
Chain is a very important part that has to be always maintained and be in perfect condition.
There are two basic chain types,
Full link: Low weight and more affordable price, however you got less options in setting up your back wheel position.
Half link: Recently most used chain, mainly because it has always been a struggle to set the ideal chain length with full link.

Two most used chain sizes in BMX are:
3/32" - RACING
1/8" - FREESTYLE

What type of chain you should use for 8T drivers?
It is recommended to use a half-link chain. We can safely recommend any of the chains available in our e-shop, but if you want a suggestions, the one that proved to be very strong and durable is The Shadow Conpiracy Interlock V2.

From the left to the right: basic full link chain, silver half-link chain (below), blue half link chain TSC Interlock V2 and wider chain tool for half-link chains

Popular GEAR RATIO
Most of a recent freestyle BMX rear hubs are equipped with the 9T driver that is usually combined with either 25T or 28T sprocket. However, there are still a lot of bikes around from the previous period of BMX when bikes were heavier and components bigger. Those of you riding an old horse, take a look at the chart bellow to see the ideal gear ratio.
22T - 8T
23T - 8T
25T - 9T
28T - 10T
30T - 11T
33T - 12T
36T - 13T
39T - 14T
41T - 15T
44T - 16T

How do I determine what gear ratio is best for me?
Like many aspects of bike set-up, gear ratio is a matter of personal preference. Increasing the number of teeth on the front sprocket or decreasing the number of teeth on the rear sprocket will result in a higher gear ratio. This will make the bike hard to pedal on take off but will allow a higher overall speed. Decreasing the number of teeth on the front sprocket or increasing the number of teeth on the rear sprocket will result in a lower gear ratio. This will make the bike easier to pedal on take off and result in a lower top speed. It is best to use your current gear combination as a starting point then determine what you are trying to achieve.