In order to make choosing of a new Freestyle BMX complete bike easier, we have divided them all into the 4 basic categories. Each group takes account of rider's proportions as well as purpose of use. By picking the right BMX bike, you are on a good path to learn basic moves much easier, faster and also preventing yourself from unnecessary warranty claims.
TBB-BIKE is here for you since 1996.
We love BMX from day one and always try to do our best to support the local scene in Czech Republic or anyone who asks us for advice. Our aim is to help potential riders pick a high quality and durable bike that suits them the most. We believe that to pick a bike you will feel comfortable on is the key to succes. With the right bike you will never even think off quitting BMX and that`s guaranteed. That's why we have prepared a couple of most important hints and tips we have gathered over more than 20 years.
Most of a beginner riders need some advices or help at some point. From our point of view, before you will proceed to buying of your new bike, you need to find out about all of the neccesary information first.
We recommend you to sit down with your parents and answer all of these questions together. Afterwards you may proceed to contact us via:
I. IMPORTANT INFO
A couple of words for parents:

Please read carefully because once you are interested in buying a freestyle bmx bike, You will be asked the questions bellow in our showroom or other retail shops.


1. Age / Weight / Height (of your child of course..) ?
2. How did he/she get into BMX and what does he/she likes about it?
3. Does your son/daughter has a place to practice on? Are there any children with the same interests around or is he going to be riding alone?
4. Are you willing to drive him/her or arrange the transport around the country either to some of the contests or one of the BMX summer camps?
5. Are you able to help him/her out to maintain or fix the bike if neccesary? Of course together with our help..
6. Have you considered that if you buy a bike, you will need some protection as well? This is an extreme sport where learning of new tricks takes hundreds of tries with a lot of falls. Therefore If you want to be devoted to BMX for the rest of your life, you will have to take care of your body and protect yourself by wearing some of the special pads and guards.
Thank you for your patience. Now If you have answered YES to most of the questions, then believe that your child just found the great way to spend free time with a sport that is beautifull, entertaining, difficult and simply awesome.

A couple of words for future riders:

Please spend a bit of your valuable time on reading of these important tips that will later make your life easier.

1. BRAND NEW FREESTYLE BMX BIKE
Be aware of a low price complete bikes under 200 euros because those are not suited for your future progression in freestyle BMX riding at all. We are more than happy to help you pick a bike that will last for years and make the process of learning new tricks slightly easier. Visit the BMX BIKES section on our e-shop and see the offered bikes collection from Wethepeople, Subrosa brand and United bikes company, divided into 4 groups (BENJAMIN, EXPERT, MASTER, PRO).

2. THINGS YOU NEED TO KEEP AN EYE ON
Every complete bike is built from a specific BMX components. These components have direct impact on general quality as well as a type of riding bike is going to be good for (dirt, park, street, flatland). For fast and easy work with this manual, have a look at the picture below with the list of numbered BMX parts and after you click on the desired group, you will be redirected to the page with a complete description.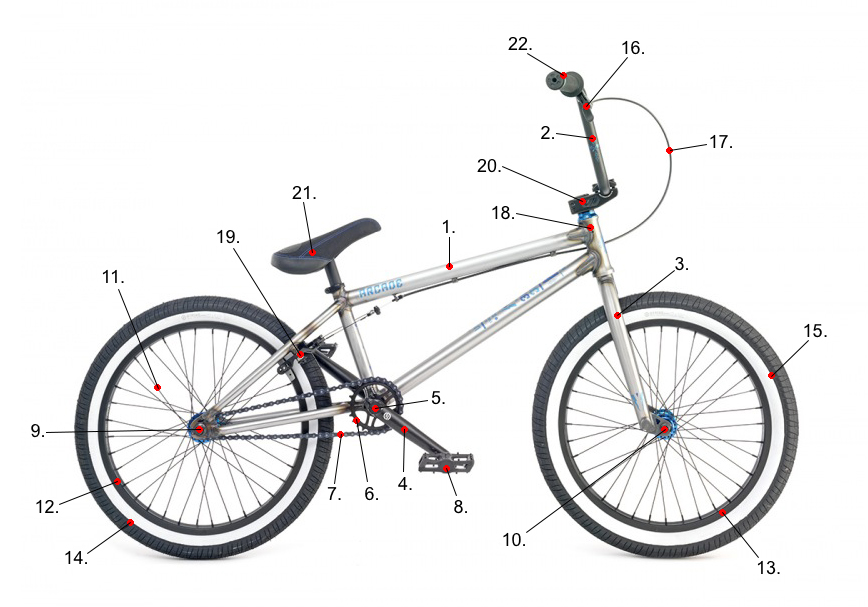 Frame: It's supposed to be simple looking with a clean design, no extra material or unnecessary shapes (square tubing etc.). Our recommended features are,
- brake pivots placed on the seatstay
- at least 5mm thick dropouts designed for 14mm axle
- MID size bottom bracket (most used BB in BMX)
- integrated head set (head set cups are part of the frame)
Fork: classic design with no pivots for front brake as it is rarely used in BMX today. Our recommended features are,
- 10mm axle as the 14mm one is history
- CrMo steerer tube for higher strength
Handlebars: Most of the todays' BMX handlebars on the market are super strong and quality so all you have to do is stick with the reputable companies and get some. There are two basic types(2-piece, 4-piece) and materials they are made of (steel, CrMo)
- CrMo handlebars are way stronger than the steel ones and sooner or later it is a necessity to have them
Stem: It is good to have your stem as lightweight as possible, especially when you are a PARK/DIRT rider. However if you have a bit of extra body weight or riding purely in the streets, it is recommended to have your stem sturdier with solid bolts and no extra weight reduction.
- park/dirt - lightweight, hollow bolts
- street - sturdy stem, solid bolts, minimum weight reduction
Cranks: Choice of new cranks depends on what type of rider you are (park/dirt, street, flatland). There are two basic types of cranks, 3-piece and 2-piece (axle is connected to one crank arm L ).
- 3-pc are the most used ones
- axle - in general 19mm spindles are used for park/dirt riding and 22mm for street.
Sprocket: todays'standard sprocket size is 25T, 28T and rarely used 30T. Once again there are two basic types of all sprockets, Bolt drive (attached to the crank arm with bolt) and Spline drive (slides onto the spindle)
Brake: Brake has to be quality, with a smooth run and maintained in the perfect condition at all times.
- most of a cheap complete bikes are equipped with some very low quality braking hardware
- our recomendation is to ask for advice on how to improve the quality of each bike's braking.
Pegs: Plastic or Metal/steel
- caution - there are some pegs designed mainly for PARK or FLATLAND riding, on the other hand if the description says STREET pegs, then it is possible to use them wherever you need.
- there is no front and rear pegs anymore as all pegs are made with a hole for 14mm spindle and comes with a reduction for 10mm one.

3. SO, DO YOU ALREADY KNOW WHAT BIKE DO YOU WANT?
- you can find a plenty of complete bikes at our e-shop divided into 4 categories based on rider's height, age, weight, level of riding etc..
- if you are still struggling with choosing of the right one, do not hesitate and send a letter with all your questions to orders@tbb-bike.cz and we will try to help you out.
II. WARNING
We recommend you to avoid buying one of the old models of complete bikes bellow.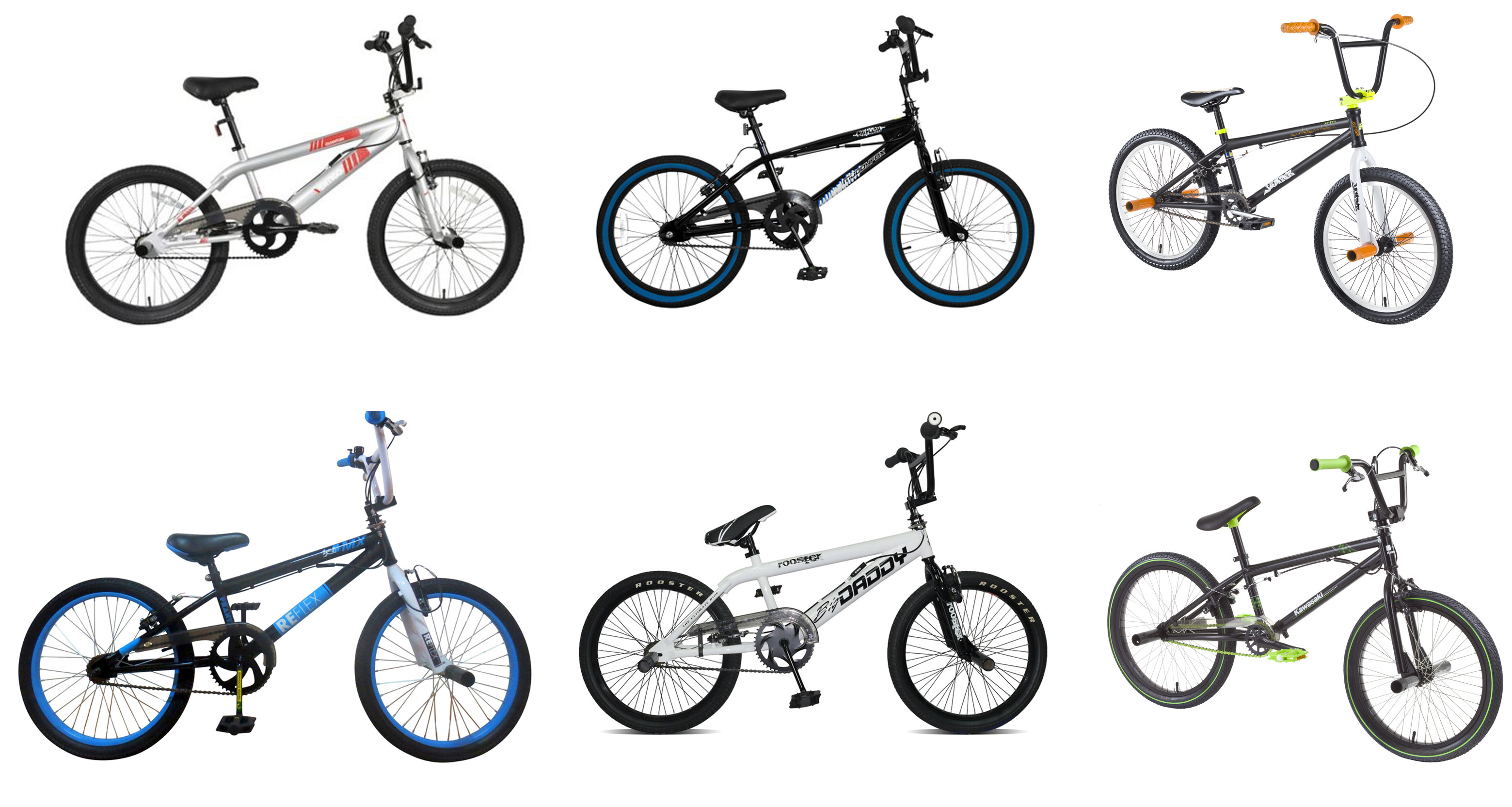 4. PICKING OF AN IDEAL SIZE
Size of a BMX bike is determined by it's frame size (top tube lenght - "TT") and wheels diametter. Both sizes are stated in INCHES. Choice of a correct frame size depends mainly on rider's height.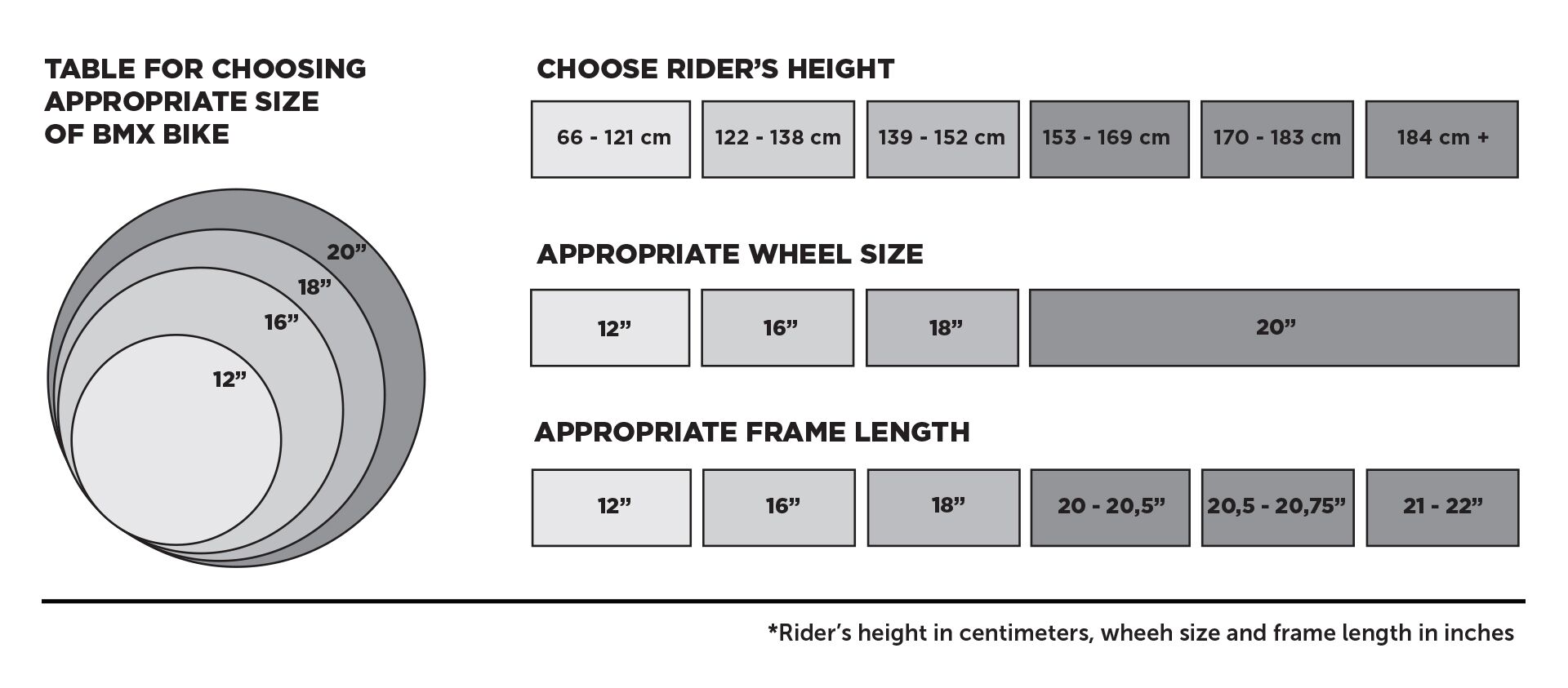 12"TT Bikes: 13 kg - 20 kg / 66 - 121 cm= Beginner
16"TT Bikes: 18 kg - 35 kg / 122- 138 cm = Benginner
18"TT Bikes: 35 kg - 40 kg / 139- 152 cm = Benginner
20"TT Bikes: 45 kg - 85 kg / 153 cm and higher = Expert; Master; PRO


5. SELECTION ACCORDING TO THE QUALITY AND PURPOSE OF USE
- right after you find out about the correct size of your future bike, it is time to pick a category that fits your riding style and skills the most

Categories:

BMX Beginner / frame sizes: 12"TT - 18"TT
BMX Expert / frame sizes: 20"TT, 20.25"TT, 20.4"TT
BMX Master / frame sizes: 20.5"TT, 20.6"TT, 20.8"TT
BMX Pro / frame sizes: 20.5"TT - 21"TT (custom bikes up to 21.25"TT)
Together with rider's increasing body height/weight grows not only the size of a frame and handlebars but the amount of final price as well. The final price is based on the used materials, components' quality and type of used bearings (sealed, unsealed). Please bear in mind that nowadays' riders have super fast progression and as their progression grows, they will need equal equipment for themselves(protection) as well as for their bikes to minimize the danger associated with bike failures.

BMX Beginner / 12"TT - 18"TT / Designed for all beginner riders as an introduction to BMX. It is a scaled down copy of the classic proffesional BMX bike allowing riders to learn some of the very basic moves 'n' tricks in a way it is supposed to be done, unlike the other common bikes for children. Benjamin category is suited for riders with body height between 121 cm (12") and 152 cm (18").

Frame sizes: 12"TT - 18"TT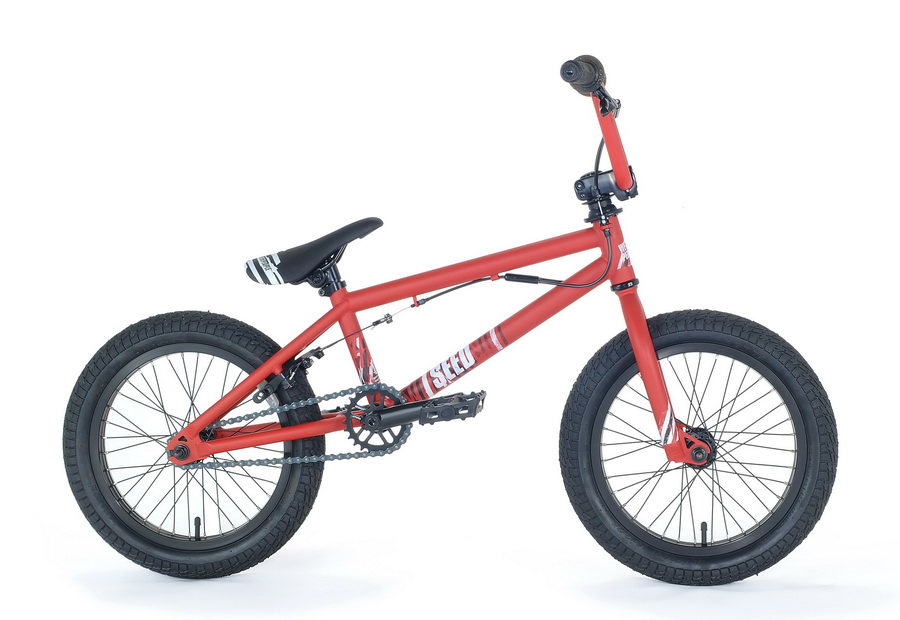 BMX Expert
// For all intermediate riders who already control their bikes and just started with learning of first tricks. An ideal parameters of the Expert rider are about 140 cm of height and body weight +- 60kg. Most common materials are the combination of Hi-ten steel and CrMo (cromoly) compound. Expert bike is usually equipped with both, ball bearings(front hub) and sealed bearings (rear hub, head set, bottom bracket). Please bear in mind that Expert cranks are not designed for the heavy treatment and maximum pressure unlike the proffesional ones. Complete weight of these complete bikes is somewhere about 12kg.
Frame sizes:
20"TT, 20.25"TT, 20.4"TT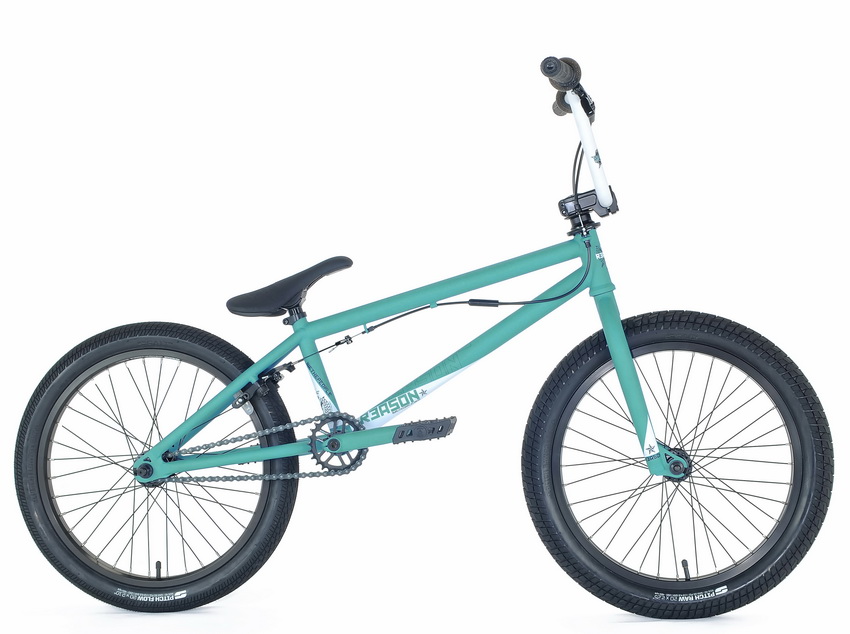 BMX Master
// Middle class bikes suited for all advanced riders with higher requirements or simply bigger sized body. Master bikes are equipped with higher class components including sealed bearings (hubs, head set, bottom bracket), designed for riders about 60-70kg of weight. Handlebars, frames and forks are all made from the quality CrMo compound with marking 4130. The highlights of Master bike are double wall rims, durable wheels, stronger cranks, wide tyres and high quality chain.
Frame sizes:
20.5"TT, 20.6"TT, 20.8"TT 21"TT, 20.75"TT, 21"TT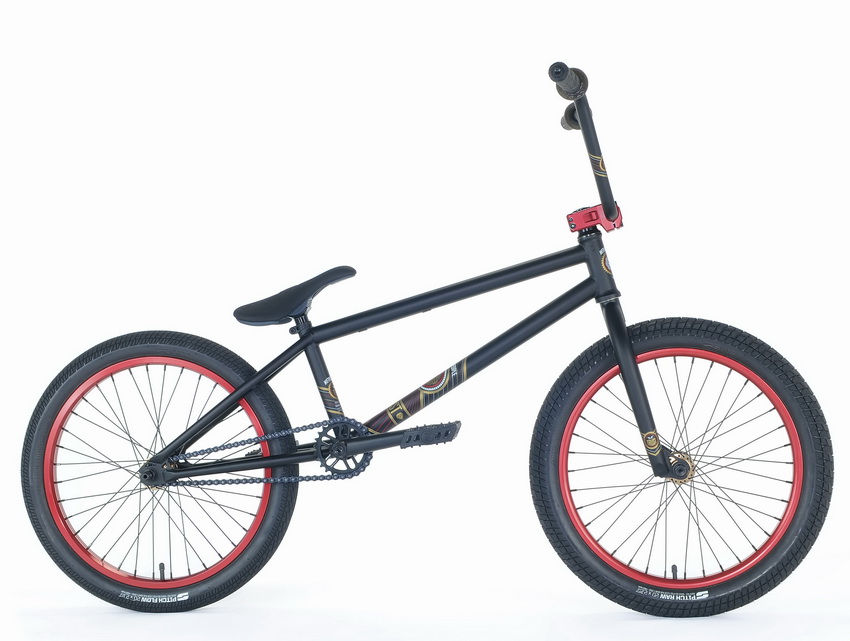 BMX Pro // Top class bikes made from the strong materials, equipped with some of the most quality components available (pivotal/tripod seat, integrated seat clamp, removable brake mounts or plastic pedals). sealed bearings(head set, bottom bracket, hubs). These bikes are suited for proffesional riding on the highest level. No matter how much of a pressure you put on, it's going to be easily absorbed. Suited for riders over 75kg. Basic material is 4130 CrMo ( frame, handlebars, fork). PRO frames' tubing is usually narrowed(butted) to reduce the final weight which is about 11 kg.
Frame sizes: 20.5"TT, 20.75"TT. 21"TT, 21.25"TT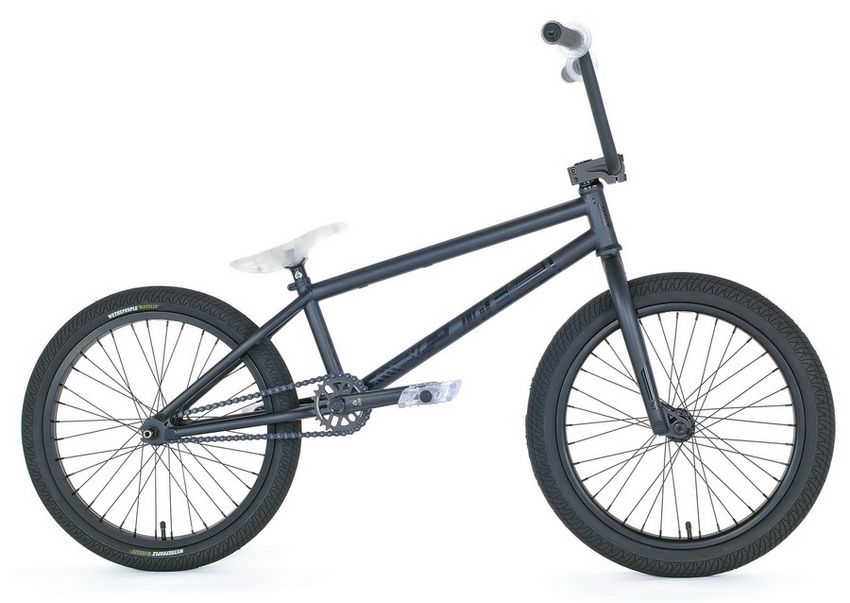 Feel free to let us know via our email about any ideas on how to improve/correct this section.

Created by the TBB Crew.