INTRODUCTION
We are happy that you are interested in buying the right kind of shoes for your riding sessions, because only then, we can together prevent wrong choice and then possible injury. Just to have it here, you can't file a complaint if you chose wrong shoes.
The most important thing when choosing a BMX shoe, is to think about for what kind of riding you want to use it. For every riding style is recommended different kind of shoe. For what is the shoe ideal is usually set by several things, like used materials, stiffness of the sole and the overal design.

THE PRINCIPLES OF CHOOSING THE RIGHT BMX SHOE
Choose the shoe with regard to what your skill level is, where you will be riding most of the time and how often you will use it.
Its extremely important, as with every shoe, to choose the right size. If you need help with that, try the guide bellow. The length, width and shape of the shoe have to be comfortable for you. Wrong choice of size or shape can cause discomfort, health problems and can lead to material failure in the shoe due to the disproportionate force straining the seams. Eventual warranty claims with this issue will be rejected.
Always keep in mind that the size of the shoes is only indicative, so always pay attention when choosing the right one for you.
Try on the shoe with mid-thickness sock. Socks play important role in walking comfort. They absorb moisture, protect the lining and dampen steps.
Shoe should be the right size, not too big or small. When you tie the laces, the shoe should sit firmly on your foot. Following this recommendation can protect you from injuries.
Never buy shoes with dampening bubbles on the heel, as they will always pop. They aren't meant for this much pressure you put them under in BMX.
Your feet always sweats in shoes, so don't expect miracles from leather or suede in matter of durability. Besides that, all the sweat from all the leg pads comes down there as well.
Be aware that you might have differently shaped one foot that the other, so always try on both shoes.
HOW TO CHOOSE THE CORRECT SIZE OF BMX SHOES
If you are looking to buy shoes in our e-shop, but you aren't sure which size to go with, this guide might help you with your choice.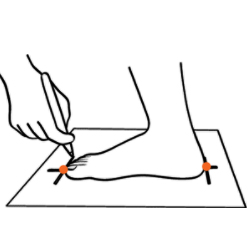 1. Place a sheet of A4 paper on the ground.
2. Mark a line on the paper, longer than your foot.
3. Place your foot with sock on the paper, so that your heel and toe are both on the line.
4. Mark on the line spots where your heel and toe ends.
5. Repeat for second foot.
6. Measure the distance between the two spots. Then compared it to the size chart.
7. Always compare with size chart of the brand of shoes you are looking for.
MATERIAL COMPOSITION OF BMX SHOE AND ITS PARTS
The shoe design and materials used are usualy indicative of what the shoe is made for and how durable it is going to be.

1. Upper
First important factor is, if the shoe is resistant to mechanical damage. If you are riding real-street, dirt jam or trails, and you are doing a lot of whips, then choose upper from synthetic leather. This durable material should be across all the upper to provide the best protection. Suede is more comfortable, lighter, flexible, but is far less durable when damaged by sharp pedal pins, or when touching with cranks while pedalling.

Leather / Synthetic Leather:
+ mechanical durability
+ longer service life
+ resistant to humidity
+ more resistant to friction
- lower breathability
- lower flexibility
- not the quality of natural abalone
Suede:
+ breathability
+ lower weight
+ more flexible
- lower mechanical durability
2. Outsole
The part of the shoe which touches the ground. In BMX is usually used hard outsole mainly due to its durability. Vulcanised outsole is often chosen by riders who prefer to feel the pedals more and won't do tail whips as much.

Hard outsole:
+ shoe is hard to bend
+ better protection during fall
+ more resistant to sharp pedal pins
+ more durable for brakeless riding
+ usually offers more parts with enhanced durability
- becomes soft faster when used for normal walking
- when exposed to sudden shift in temperatures the outsole can crack in bends

Vulcanized outsole:
Currently the most used technology, the bottom is glued to the top part. The durability of the connection can be negatively influenced by extensive exposure to water or sweat. The connection can also brake if the shoe is used inappropriately.
+ softer, better feeling in pedals
- glued outsole
- lower resistance to pedal pins
- lower resistance to brakeless riding

3. EVA midsole
Pressure shaped midsole. Super-light, bendable, durable and resistant to impacts.

4. Lining (inside of the shoe)
Its usually most strained in the heel area. Damaged usually by not properly tied laces or not using the shoehorn. Also is often damaged by protection pad velcro. Its a mechanical damage and can't be considered as material failure.

5. Heelcap
Part around the back of the heel, which strengthens the whole shoe.

6. Toecap
Its very important, especially when often doing foot jams. The front of the shoe can sometimes touch with this area the sharp bottom parts of the fork, which can cause damage to the shoe. Its also strained while learning tricks like hang-5, hang-10 etc. It also dampens the impact when jumping of the bike (Foot hits the front of the shoe).
BMX SHOE CATEGORIES
1. Synthetic leather / hard outsole = the most durable variant, good for street, dirt, trails and park
2. Synthetic leather / vulcanised outsole
3. Suede / hard outsole
4. Suede / vulcanised outsole
5. Canvas / vulcanised outsole = we don't recommend using this kind of shoe for BMX, only good for free time fashion

PRINCIPLES OF PROPER SHOE USAGE AND MAINTENANCE
1. While looking for new pair, always consider for what you will use the shoes for.
2. When putting on shoes, untie the laces and use shoehorn.
3. Keep in mind, that usage of shoes lowers their lifespan. Warranty shouldn't be mistaken with shoe lifespan. Considering different use of shoes by different people, the shoes lifespan can end before the warranty does.
4. BMX shoes are made for rinding. Not walking around. Sticking to what they are made for will make them last longer.
5. In winter months, salt or other materials used on roads an negatively affect looks of your shoe, we recommend cleaning your shoes after usage from all snow and other dirt. Shoes damaged like this can't be returned under warranty.
6. White materials can take on a light yellow tone after some time.
7. Upper made from Vibrant materials can lighten up due to sun and sweat.
8. Usage of wet shoes will result in faster durability loss. (Especially insoles and inside uppers)
9. We recommend stuffing wet shoes with paper and drying further away from hight temperature
10. Never wash the shoes in automatic wash-machine or under water stream.
11. Don't use aggressive cleaning solutions and stiff cleaning brush.
12. Never dry shoes over open fireplace, heater or similar device.

SHOE LIFESPAN AND WARRANTY
Warranty and shoe lifespan are two different things. Lifespan is set by how and how often the shoe is used, which means it does not have to be the same length as warranty. With intense use the lifespan of the shoe can be shorter than the warranty. Also improper maintenance and usage for not recommended activities will lead to considerably shorter lifespan.
Feel free to let us know via our email about any ideas on how to improve/correct this section.
Created by TBB crew.