When starting with BMX riding the pads and guards are a neccesary part of every rider`s equippment. To stay healthy and able to ride, you will need to protect yourself every time you go riding. That way you can quickly push your limits forward and become dialed.

At our shop we always recommend protection particularly to beginner riders who needs it the most. The learning procedure is about trying things you haven't done before and that is asociated with a lot of falls and unexpected accidents.

AN IMPORTANCE OF BMX PADS AND PROTECTION
protecting you againts:
- bruises
- abrasions
- burns
- sharp edges
- pedal pins


BMX PADS AND GUARDS TYPES:
ELBOW PADS
GLOVES
HELMETS
KNEE PADS
SHIN PADS
ANKLE GUARDS and PROTECTORS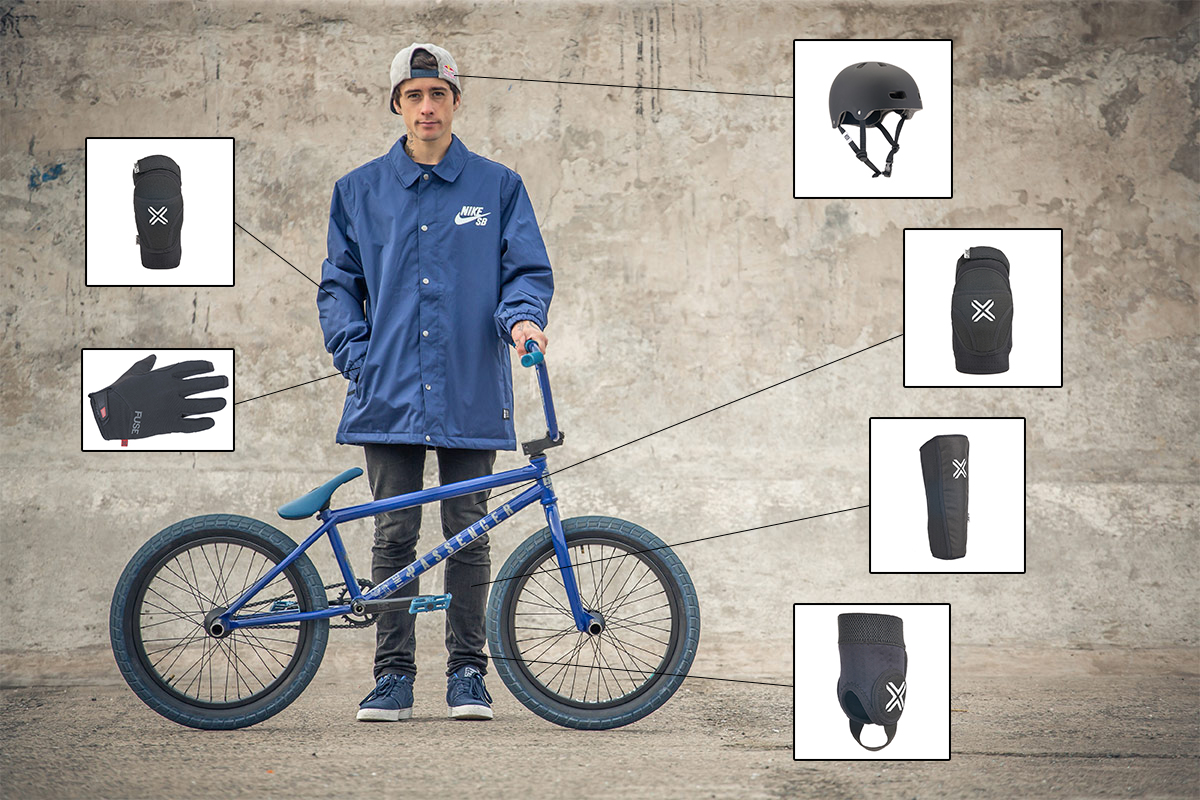 BMX ARM PROTECTION + GLOVES
Elbow pads: Protects your elbows. Riders are usually using elbow pads during their training sessions, when practicing "overhead" and "rotation" tricks.
Gloves: Suited for various kinds of sport. Gloves are not only protecting, but also preventing your "sweaty" hands against slipping off the handlebars when performing tricks. BMX gloves are lightweight, thin and does not feature any kind of plastic protectors. Always choose the right size so the glove is tightly fitting your hand, otherwise your may get injured due to the incorrect holding of handlebars (jammed fingers with brake lever/ bar ends). Do not ride with gloves which are already damaged or worn out (palm hole etc..).
LEG PROTECTION
The most important are knee/shin pads and ankle guards.
Why do i need BMX knee pads or knee/shin combo pads?
Your knee is the largest joint in your body and one of the most complicated. Whether you're practicing no foot cancans and tailwhips or racing, BMX knee pads and shin guard can protect you from more than just a shinner. A hard slam on your knee can keep you off the bike for days or even months. If you're BMX racer or you are doing any sort of riding where there's a good chance of crashing and going shin/knee on the half pipe, concrete, or rails, BMX shin guards are a very good investment. We know that some riders aren't fans of shin guards. Given the choice between being called a wimp or getting huge gash from a pedal strike and having our favorite jeans ripped and glued to our leg with blood, we'd rather be called a wimp as we comfortably ride off into the sunset.
What kind of BMX knee pads do I need?
Knee pads for BMX (or any action sport) are kind of like tacos, you can get hard shell or soft shell. Both types of pads have some sort of Neoprene or other soft, flexible sleeve and EVA foam or other type of padding to protect the kneecap and the area surrounding it.
If you do BMX racing, dirt jumping, riding vert or doing any activities where you're going airborne, hard shell pads are your best choice to avoid or minimize injuries. If you're just looking for lightweight protection in case of a tumble while riding street or flatland or just want something between you and the ground (or flying pedals) when you're practicing tricks, you'll probably be fine with soft shell pads.
A third option is an advanced protective material, such as VPD, d30, or Poron, which are being used by an increasing number of manufacturers. These materials are soft and pliable while designed to stiffen immediately upon impact, theoretically giving you the best of both worlds.

Hard shell or soft shell?
Hard-shell BMX knee pad:
- Has an ABS or other hard plastic shell riveted or Velcroed to the front of the knee area
- Provides greater protection than a soft-shell BMX pad
- Offers the best impact protection from high falls, concrete, rails, other objects.
- some of the models we offer: Fuse Alpha knee pads; Fuse Delta knee pad; Fuse Echo knee pad
Soft-shell BMX knee pad:
- Will have some sort of Kevlar or other abrasion-resistant panel over the front of the knee area
- Does not provide as much impact protection as a hard-shell knee pad
- Smaller and lighter than a hard-shell knee pad, which makes it more comfortable during longer sessions
- The panel covering the knee area is not as durable as the plastic cap on the hard-shell pad and may rip or puncture in a high-speed crash or from repeated sliding
Other Knee pad features:
- If you're worried about being protected when you drop your bike, you'll want padding on the side of your knees, not just the tops.
- Do you live/ride in a hot climate? Check the back of the pad not only to see the strap configuration if there is a vent hole/opening
- Venting is also facilitated through the fabric as well as any vents that may be cut into the hard shell caps.¨
- Mesh fabric and vented caps allow for the most airflow and are a good upgrade option

BMX SHIN PADS:
The range of potential configurations in BMX leg protection can give you option paralysis. Before you randomly point to one that looks cool and say, "Okay... that one," think about the type of riding you're likely to be doing, where you ride, and the type of pedals you have. If you're doing any sort of BMX riding that includes jumps, drops, or elevated structures or if you're racing BMX, a good set of knee/shin guards can help prevent or minimize injury.
While long pants are good; BMX knee/shin guards are far better when it comes keeping you protected. If you only need shin protection for some sessions (like when you're practicing tailwhips or one-foot can-cans), check out the manufacturers who make compatible but separate BMX knee pads and BMX shin pads. For instance, Fuse protection and The shadow conspiracy are designed to fit and work together. If you opt for separate knee pads and shin guards, consider getting ones that are made by the same manufacturer so you know they'll work together.
a) without the PVC inserts (ideal to wear under your pants) / Fuse Alpha Shin/Whip pad, Shadow INVISA-LITE guards
b) with the front PVC protector / Fuse shin pads original
c) with the front PVC protector + side PVC protector / most used type
d) with the front PVC protector + side PVC protector + ankle guard / Fuse Alpha shin/whip/ankle pad

BMX ANKLE GUARDS
Protects your ankle against the damage caused by kicking of cranks, pedals, axle etc..
a) ankle guard- protects against all the crank bites and frame tags that modern riding dishes out
b) orthosis - stabilising ankle support system for prevention against sprains and other ankle-related injuries
- possible choices: Shadow Super slim ankle guards, FUSE Ankle protector, Fuse Alpha ankle support


How to choose right sized protection?
- all pads/guards have to fit tightly, otherwise it`s slipping off and does not perform it`s function
- bear in mind that every single pad/guard will stretch out after a month or two of riding with them
- choose every pad/guard wisely and preferably aim for compatible pieces for the highest possible comfort
BMX leg protection sizes
When choosing your new leg protection, read the picture no.1 bellow and follow all the proportions.
1. Ankle guards = no measures, universal size
2. Shin pads = shin circumference (widest part of your calf - see the picture no.1)
3. Knee pads = knee circumference (widest part of your knee - see the picture no.1)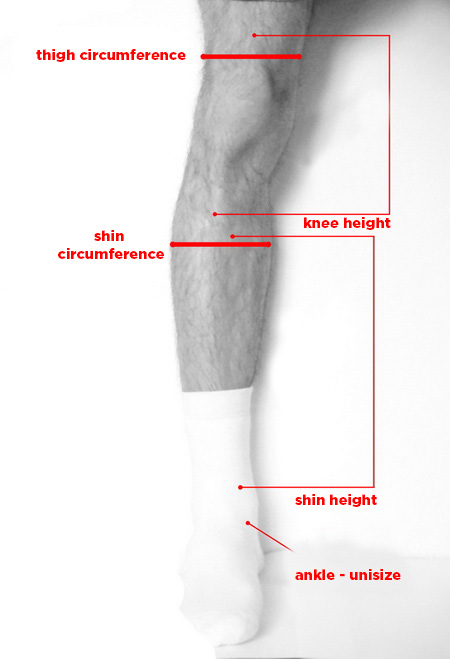 PIC.No.1
How to correctly measure a bmx gloves size?
A basic dimension is a hand/palm circumference. Compare the result with the sizing chart in this article bellow to find your ideal size.
Total glove length: orientational dimension that helps to choose the correct size

How to correctly measure a bmx legs protection size?
Ankle guard
- universal size for all riders with US 8 foot size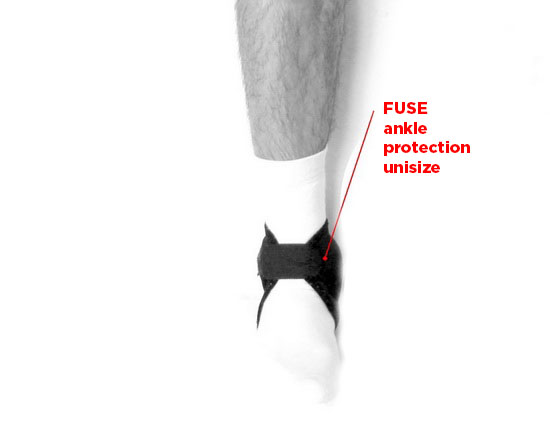 Shin pads
1. measure the shin circumference (widest part of your calf - see the picture no.1)
2. compare the result with the sizing chart bellow to find your size

Knee pads
1. measure the knee circumference (widest part of your knee - see the picture no.1)
2. compare the result with the sizing chart bellow to find your size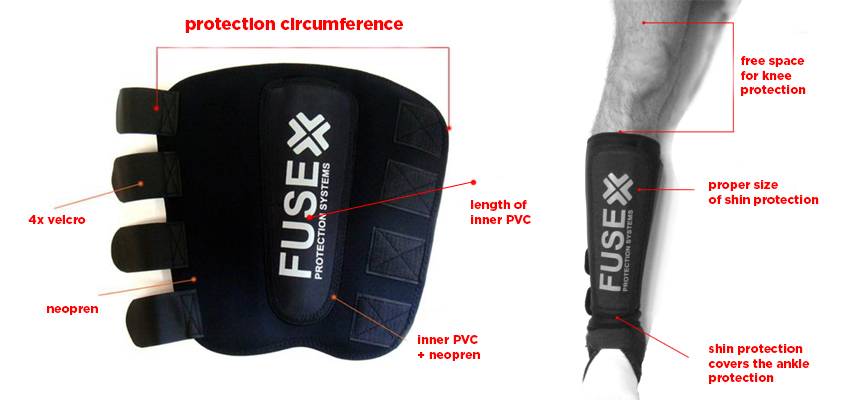 SIZING CHARTS
- can be found in the description of nearly every product in our e-shop

RECOMMENDED PADS AND GLOVES MAINTENANCE
When washing off your pads and gloves follow the rules bellow:
- remove the shin pad`s plastic padding
- every velcro strap has to be closed
- max temperature: 40°C
- it is recommended to hand wash your box gloves


In case you don`t understand anything or have some ideas on how to improve this section? Feel free to leave us a message on Facebook or email order@tbb-bike.com