First saturday of september belonged to the third stop of 2017`s Street Jammin series which this time took a place in the streets of Krakow. Let me say in all confidence that this stop was one of the best so far!...

Let`s take it from the beginning. The rain was pouring down whole friday however, for the Saturday`s jam it seemed like the good conditions were booked and by the noon everything was ready to begin. Please let me apologize for my lack of knowledge of Polish riders and not being able to name most of them.

The crew of about sixty riders showed up at the first checkpoint infront of Krakow`s museum where couple of ledges hosted a 30 minutes long warm up session. Everyone was hungry to get his line so you can imagine the rush. This spot got dominated by a couple of Polish killaz throwing some super tech combos one after another. Quick move onto the next spot right across the street which was super steep bank/wallride. Jakub Juza got wild and within couple of minutes sent a number of solid tricks spining everything he could and even both sides. Just when you thought it was over the local guy Michal Basta blasted up the wall straigt into the top side smith and everyone lost their mind! Couple of Zlotys was handed to those who killed it the most and we were onto the next one.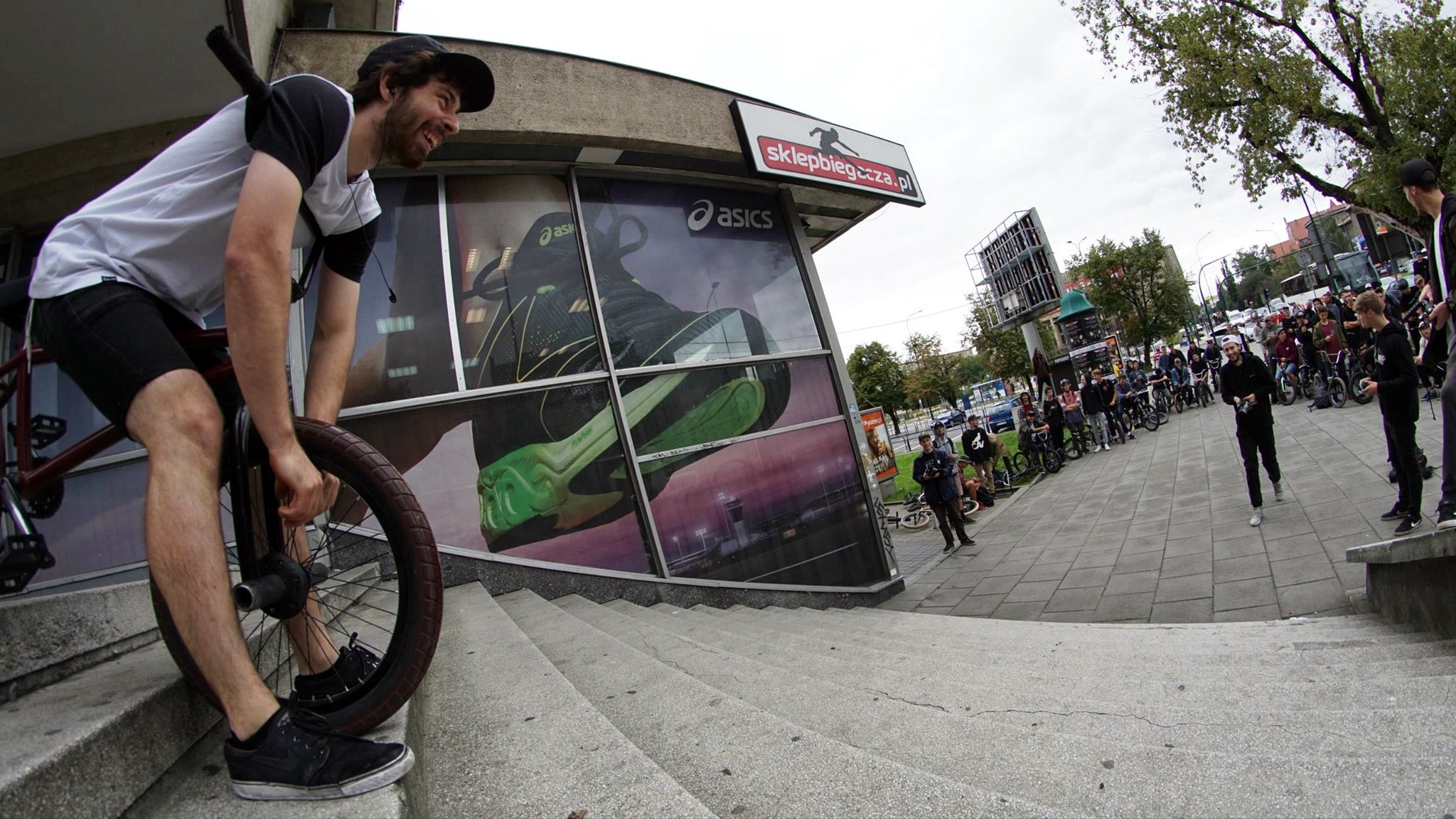 Not even a minute away was a set of 14 stairs and in the blink of an eye people were throwing themselves down doing 360s, condors, barspins and more, nuts! There even was an attempt for full speed nollie bars, unfortunatelly the guy who tried it didnt catch bars properly and ended up not being able to go in again. Big up for this man! For those who didn`t feel like dropping down the 14 stair set, there was a same stair set on the other side but this one with a little rail (or ledge? you tell). Even though it was kinda sketchy looking spot, heavy session went down immediately! Juza kept sending one bang after another, Smelko iced it and Basta decided to grind it up! Jirka Semela throw a quick bars just to remind us he`s nuts and to top it off some crazy dude did 5050 hard 180 down!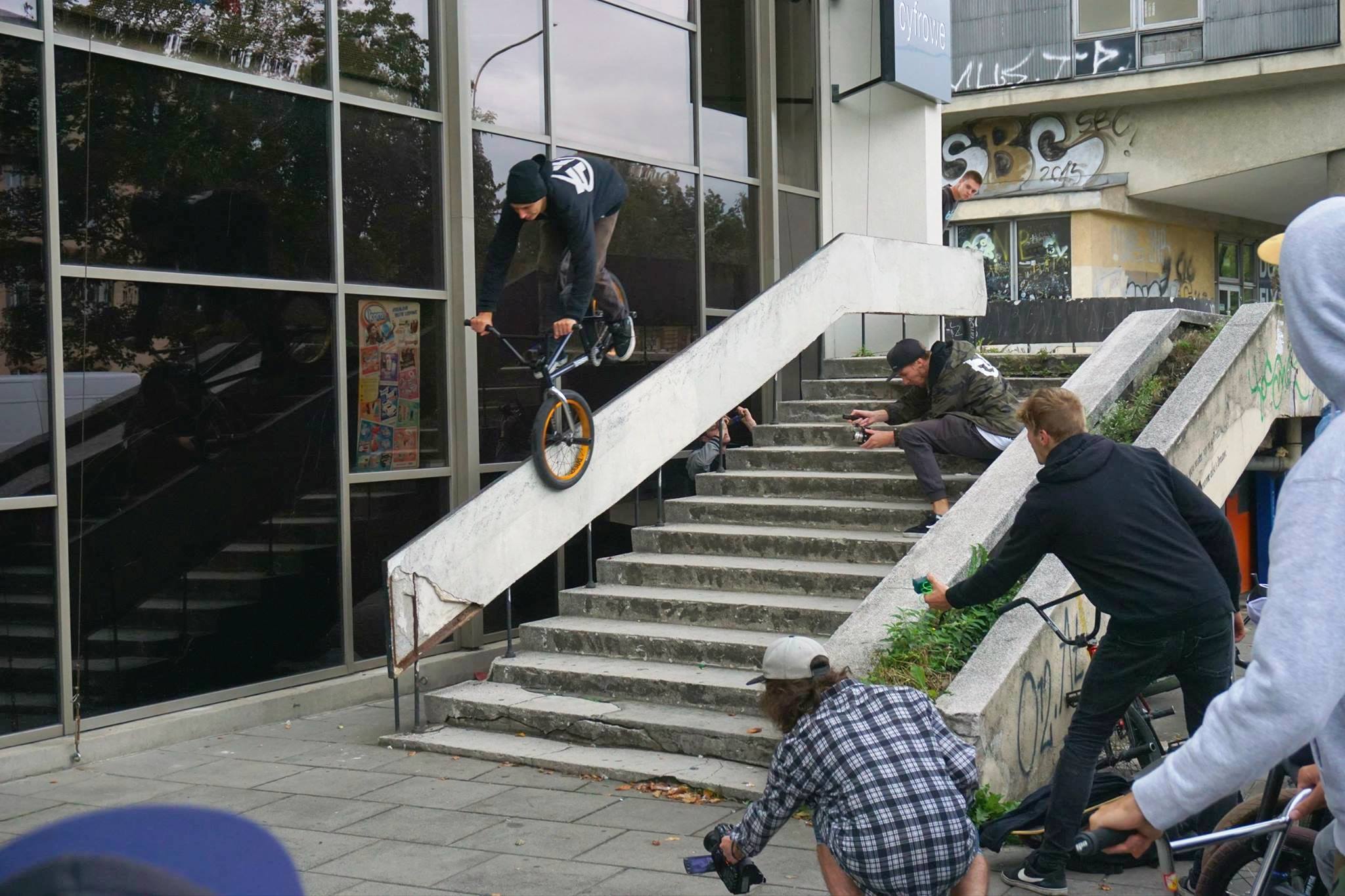 The crew have packed, finished their coffee and we were off to downtown mobing the overcrowded streets on the way to the next battleground. A mid sized stair set with square rails on the side. Pretty much the only bummer of a day was a half cab crash followed by missed over toothpick grind down the stairs. Bloody hell! Luckily the polish guys are made of steel and after a little brake the session continued. All kinds of grinds, truck driver and more tricks were thrown down however, Michal Basta prooved his pure street heart again when putting his two tires to rail from the side and riding it all the way down! The following riot was so loud that it has even waken up the local police officers who showed up too late as it`s usual for them.. ID check, classic cop talk and we were off.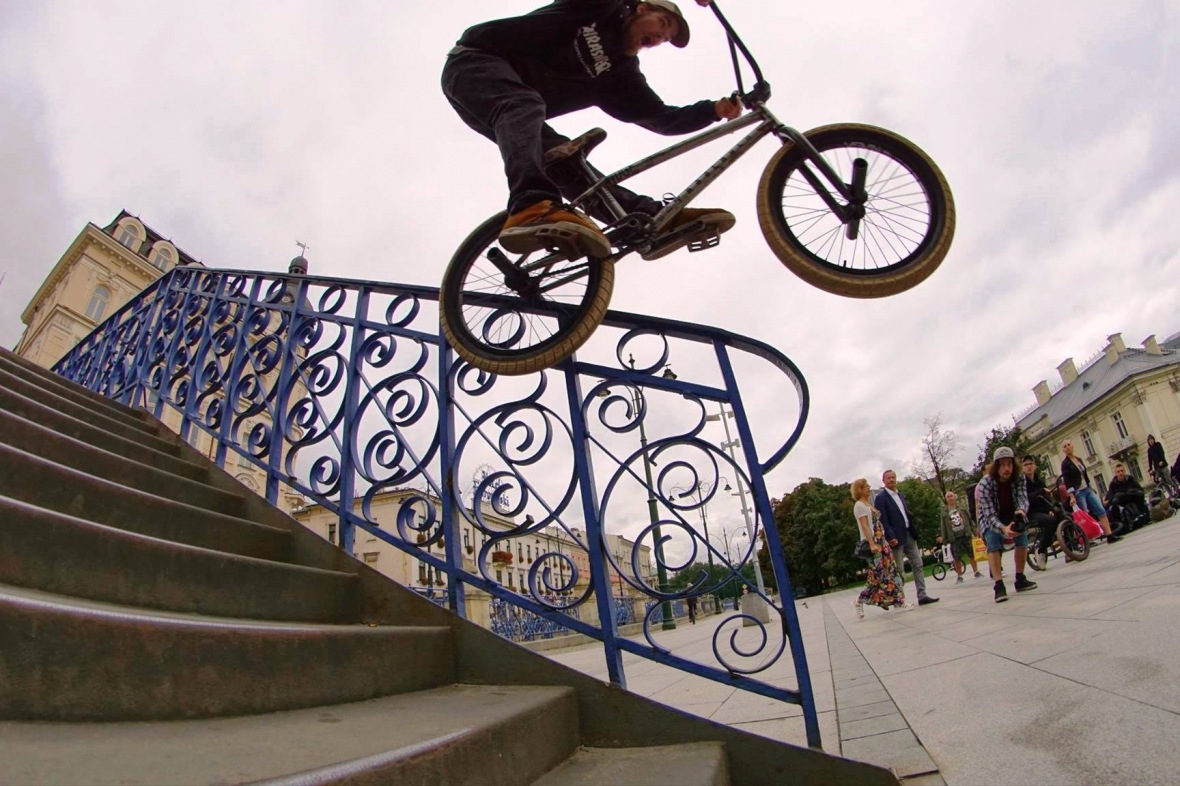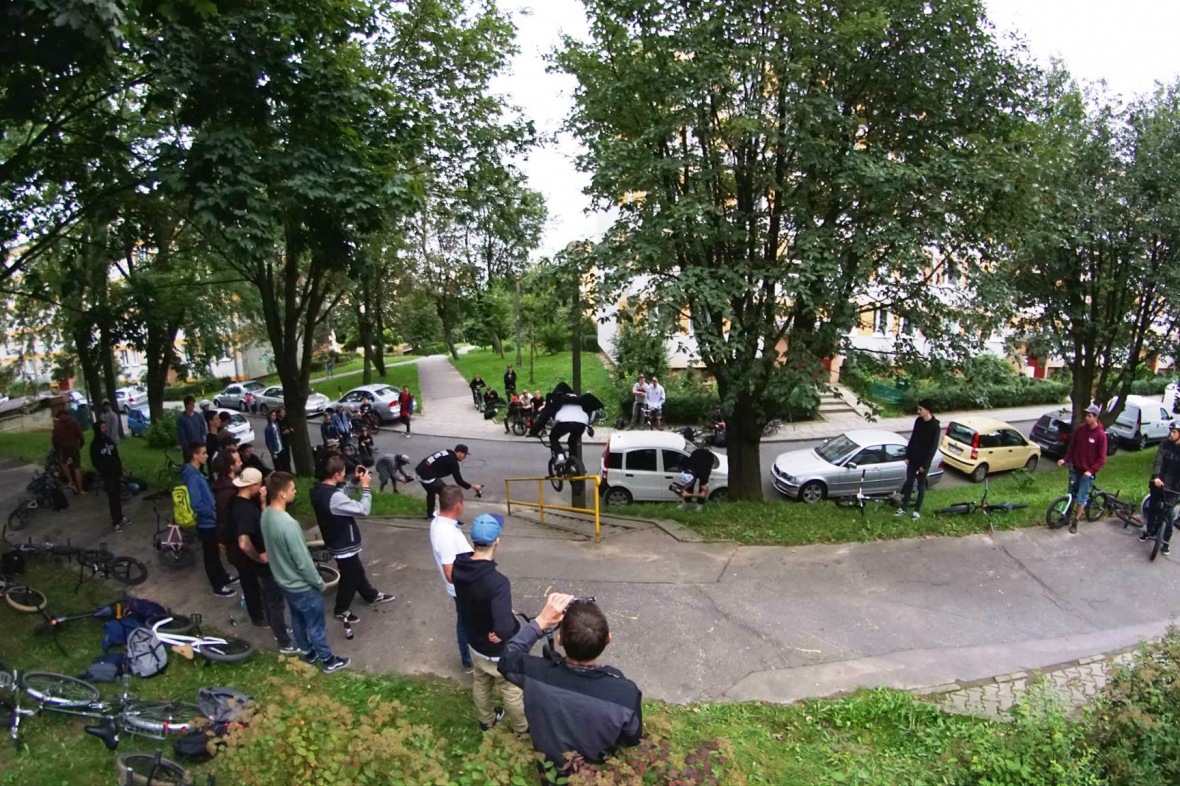 This time it was a 20 minutes hell of pedal straight to the ends! A rail paradise, that`s how we called this area after our first visit. A huge double kinked rail was first on the menu. Jakub juza, Marty Svoboda and Michal Basta sent it down without hesitation while being shouted out by the crowd. Marty has proven himself strong and he is obviously getting back in the game quickly after he went for the knee surgery a couple of months back. The cash in his pocket was well deserved! A bit of more cruise around the neighborhood ended up infront of nice looking yellow rail and the game was on again! A pure wildness, countless of grinds, and the noise made by crowd so loud that the buildings around were shaking! It seemed like Juza is going to get the bread again, but out of nowhere Basta did a cleanest over smith ice and that was it!!! Watch it yourself in the video..
All the cash Ludis Toth had left in his pocket was given to Basta and then we headed towards the concrete plaza. The awasome day was slowly coming to it`s end but the craziest thing was still about to come. We came to another drop, this time it was a super long double set of stairs and the two MVPs Jirka Semela and the Polish Sean Ricany started running it up. You had to go as fast as you could to reach the bottom ground yet those two lunatics still decided to 3 it, Bam! After the couple of tries both of them landed huge 360 clean and now the day was over! Seriously awesome way to end this epic street battle that it was!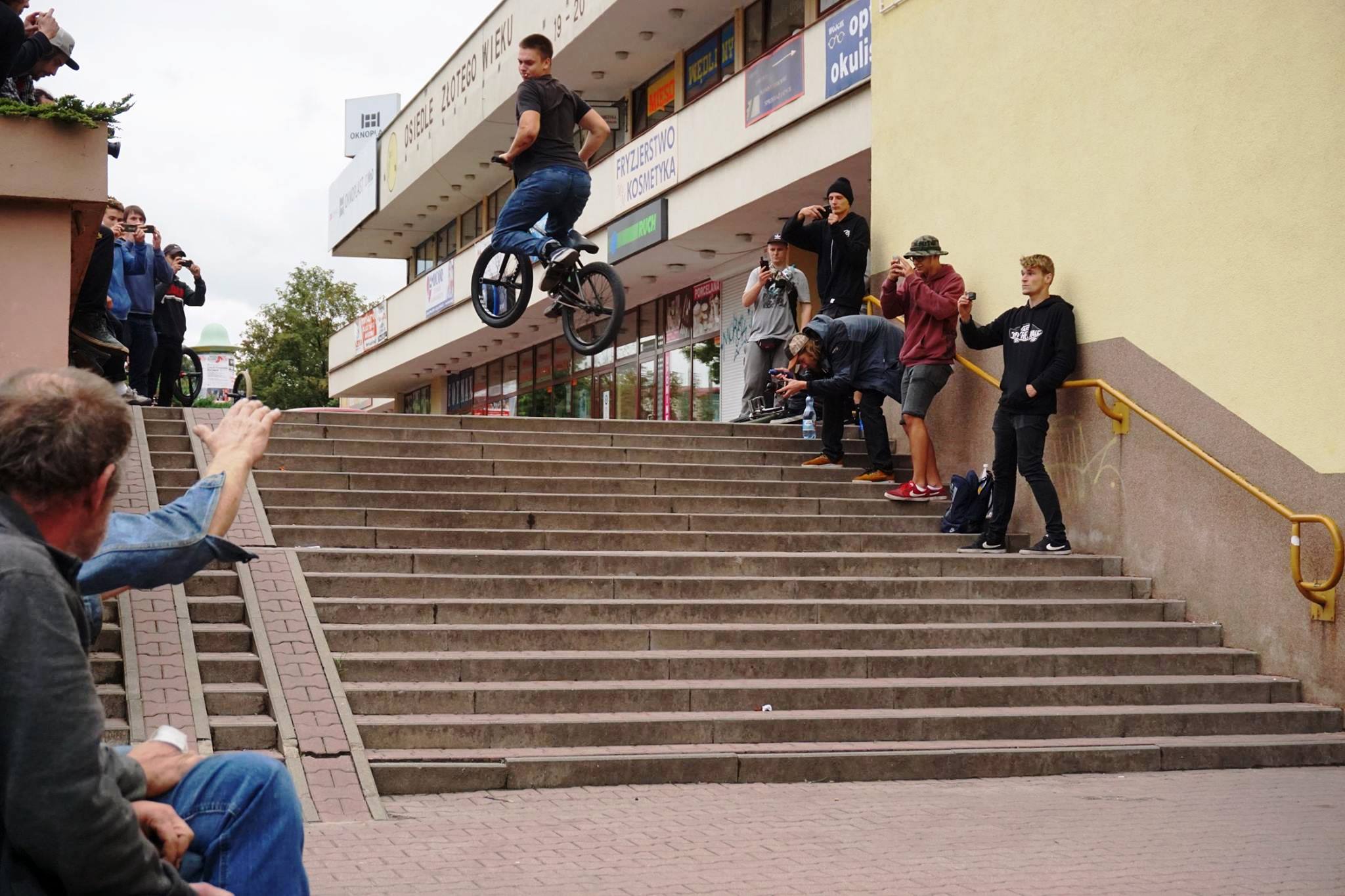 Jam was over and after about half an hour long cruise throught the town we finally got to the skate plaza and then right back to where we started from, our room. We took a little break and were up for the night out with whoever else was able to move after such a mad day. It all felt like TbbBikeBoss Saša ordered a hella good day including weather conditions which later that night everyone agreed on. Thank you Alex!

It`s all hard to explain though an one has to witness the shitness with his own eyes to believe. Massive thanks to the Krakow crew and everyone who showed up, also to WDGF Raiders for sick pictures! Now play the video and feel the realness. Until next time!