SHADOW CONSPIRACY 2017 GRIPS COLLECTION
By Víťa Kácha | 03.10.2017
The Shadow Conspiracy coming up with new promo video for their grip range. Let's have a closer look at each of 4 models that Shadow offers.
OL DIRTY
This is the remake of good old model that used to be in Shadow's offer under Byron Anderson's name. One of the most favourite grips are now back. Made of durable DCR rubber compound with comfortable rib pattern. Available in 5 different colourways. 160mm long, includes a pair of bar ends.

MAYA
Joris Coulomb signature grips. Features a nature inspired Honeycomb grip patter. These grips vary from rest of the offered so in case you're seeking something different to others, this might be a good choice. Made of durable DCD rubber compound, available in 4 various coulourways, 160mm long, includes a pair of plastic bar ends.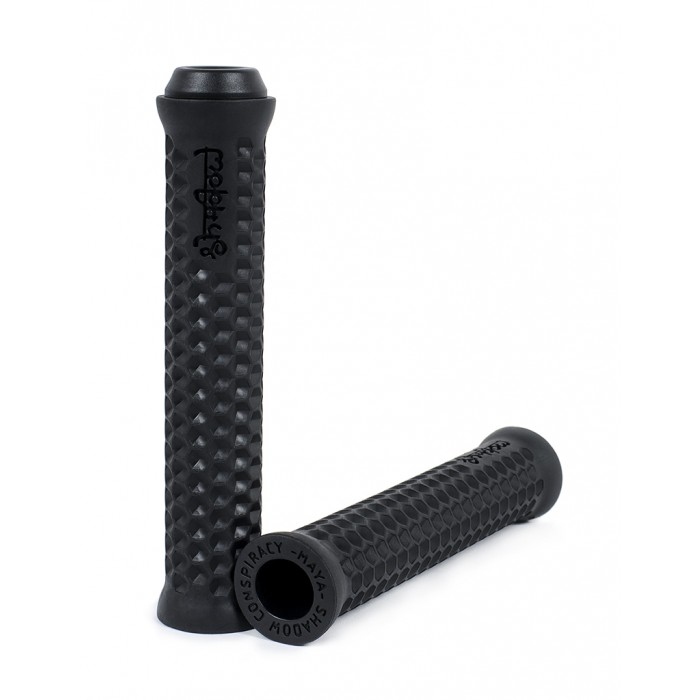 GIPSY
These grips were designed by one and only Simone Barraco featuring asymetric rib pattern that allows for two types of hold. Once again these grips are made of a quality DCR rubber compound, 160mm long and sevn different colourways! Includes a pair of plastic bar ends.

CHULA
Lahsaan Kobza's signature grips with a typical rib pattern divided into two halfs. Made from a durable DCD rubber compound, 144mm long, available with our without the flange and various colourways ( 6x for flangeless, 4x for flange). Plastic bar ends are included.

Last but not least Shadow grips we have in the offer are Trey Jones' signature 138 grips. As usually made from a DCR rubber compound, 155mm long. All of the Shadow grips we have can be found under this link and for those who'd like something else we have tons of other grips too, just clik here.

You are more than welcomed to come visit us in our TBB-BIKE HOUSE showroom and get your hands on whatever you would like to see first.
Back